Today is a big day for teams working inside Webflow. This post is intended to gather the information and resources together so that you can feel confident during this transition.
Building on the improvements we made to collaboration inside the Designer last summer, today we're releasing Workspaces.
Workspaces simplify how you create and grow your teams in Webflow and introduce brand new billing and publishing permissions to let you control how work gets done across your team. For all the details plus resources, including new roles and permissions and how the transition process will take place, keep going.
A good place to start learning about Workspaces, roles, and permissions is with the blog post announcement and the University video or articles. Anything posted here is sourced from these places.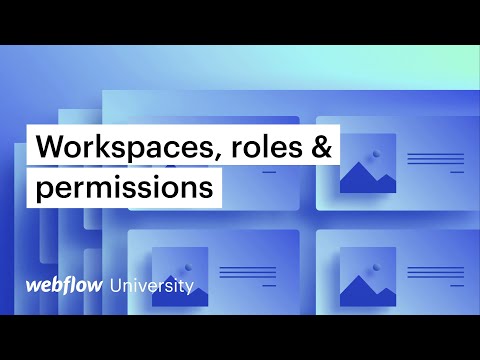 What is a workspace?
To make creating, growing, and modifying your team within Webflow smoother, we've consolidated individual and Team account plans into a unified "Workspace" plan that lets you seamlessly grow from a team of one to any size you need.
This means that everyone new to Webflow starts out in a free Workspace and can upgrade and add teammates as needed. Now, you'll never need to create a separate Team account and move sites over or deal with time-consuming account setup as you're scaling adoption of Webflow.
How do I get access to Workspaces?
From February through the first half of 2022, we'll prompt account owners to transition to a Workspace via in-Dashboard notifications, banners, and email. Once you're notified, we'll provide a guided transition flow with plan recommendations based on your account size and usage. After you transition to Workspaces you'll have access to the new roles and permissions included with your plan, and you can also change your Workspace plan as you see fit.
New accounts
If you've just signed up for a brand new Webflow account, you'll be the first to transition. You will begin to see Workspaces in a gradual rollout over the next several weeks. (Welcome to Webflow!)
Existing accounts
Customers with no paid plans (or only site plans) will be automatically transitioned to a free Starter Workspace.
Customers with individual account plans will be prompted to switch to the appropriate Workspace plan based on site count and account complexity.
Customers with team plans will be prompted to transition to Growth Workspace plans.
Enterprise customers will hear from their customer success manager, who will handle this switch on your behalf and be in touch to walk through questions and demo the new features.
Ready to transition to workspaces? Read this article first.
What are roles and permissions?
Aside from simplicity and scalability, one of the biggest improvements that Workspaces introduces is brand new roles and permissions. These allow you to control who can do what within your account, and even within individual sites.For an in-depth explanation, read this article.
Here are some quick slides to help break it down.
Workspace-level roles and permissions
Site-level roles and permissions
Workspace pricing
Existing Pro account? Use the link below.

Need help understanding what workspace is right for you or your team? We recommend using the guidance tool on the pricing page based on two simple questions.
Are you an individual/freelancer or an agency/team?
Are you building a single site or many sites?
Feature enhancements
Additional improvements as part of this release
We've also made a handful of improvements for all customers that should make your everyday workflows run a bit smoother.
Here's what else you can look forward to:
Improved teammate management settings. See all of your Workspace teammates and individual site guest editors in one place under your team account settings.
Clone showcased sites to your Team or individual Workspace. You no longer need to transfer cloned showcased sites out of your individual account into your Team account — simply choose which Workspace to clone your site into and get back to work.
Improved site transfer flow. Whenever you transfer sites to someone, they'll be more clearly notified and will now be able to choose which Workspace they want the site to end up in.‍ (Note: For now, sites with Site Plans will still need to be disconnected and reconfigured upon transfer.) ‍
Purchase templates for any Workspace. Previously unavailable with Team accounts, the switch to Workspaces means you'll now be able to buy and use templates.
What's next for teamwork in Webflow
As we previewed at No-Code Conf 2021, today's release is only one step on our continued journey to improve how teams work in Webflow. Some of the exciting features and improvements we're tackling next include:
Per-site Designer access. Invite clients, contractors, and teammates to work in the Designer on one or several sites without giving them access to everything in your Workspace.
Site Activity log. Get a detailed look at important changes being made to your site with a log of who's publishing the site, editing styles or symbols, adding custom code, restoring backups, and more.
Commenting. Invite teammates, clients, and other stakeholders to leave comments on a per-element, per-breakpoint basis for quick iteration and feedback as you progress through a build.
Q&A
Question: What if I'm an individual but the positive changes seem focused on teams?

Answer: This is valuable feedback. For today this is the price point we've set for customers using Webflow this intensively, but I'm going to take this feedback to the appropriate teams internally for consideration. I'd also just like to point out that today is just a starting point for these new plans and there is more functionality to come for Core and Workspace plans — additionally note this change has no impact on site plan pricing.
Resources
All links above are also listed below and some additional articles for reference