Hey

,
I'm Nusu, founder of Formcarry.
Webflow recently dropped support for processing forms for exported projects, I know a lot of you were affected by this change. You can set up your Formcarry forms in seconds.
The benefits are:
GDPR
Spam Detection
File Upload support
Zapier Integration
Exporting submissions in CSV or JSON
Defining Autoreply Messages
Here's how to set up your Webflow forms with Formcarry:
1- Create a form In Formcarry:
2- Copy your endpoint url and paste it into your form:
You need to find the Form element, make sure you have selected method as POST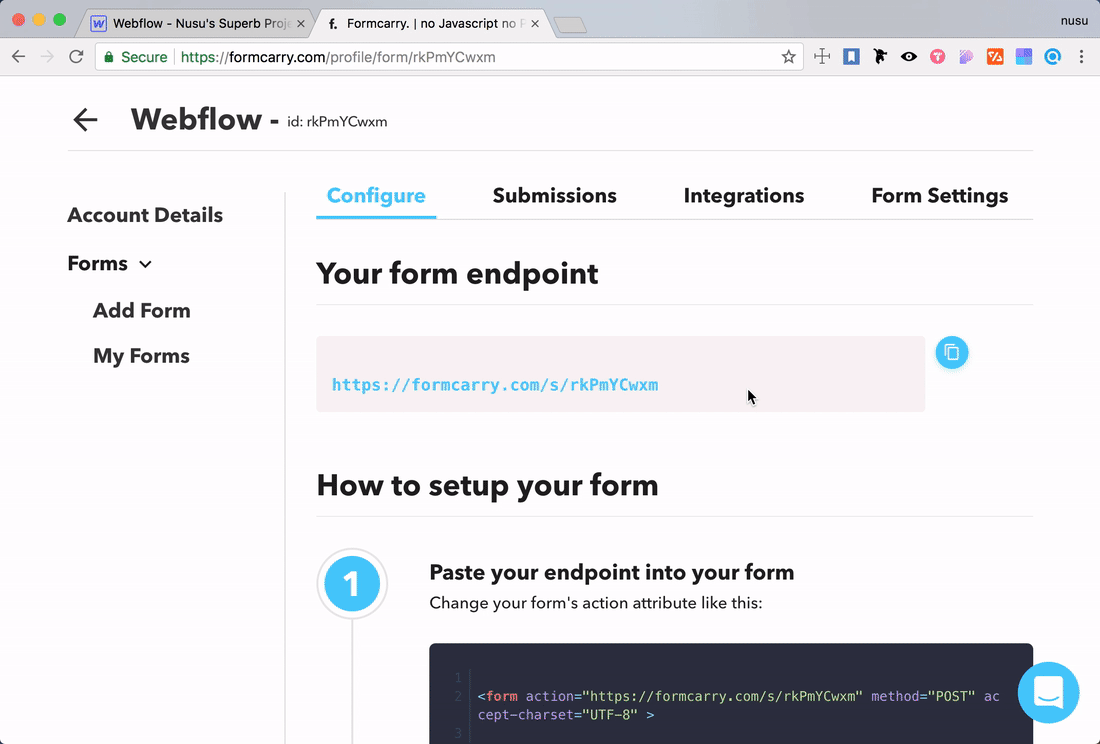 3- Publish your site:

4- Open your site and test your form:
By default formcarry show visitors our default thank you page, but you can configure it in your dashboard by changing your Return Url

5- Let's see what we got:

It's working perfectly, while we have done the basics, let me tell you what you can achieve further:
We have Zapier Integration, using Formcarry with Zapier is extremely powerfull, what you can do with it?
You can get notified everytime someone submits your form with Slack, Pushover (ios, android and web notifications).
You can grab those data and connect it with other services like Intercom, MailChimp, Salesforce, Google Sheets. Zapier has over 750+ integrations, it's up to your imagination.
here's our Zapier Guide
here's our Zapier Page
Hope it helps, and don't mind to ask me any questions on your mind!