Hello!
How do I prevent a pop-up modal from being hidden or stuck under my mobile fixed navigation bar?
To recreate the issue, visit the website (password: tellygramz) with your mobile device or limit the view to 478px wide.
Go to the "STYLES" page. Click on a phone. You will notice the pop-up modal is caught under the fixed nav and prevents the user from performing any other action except to book.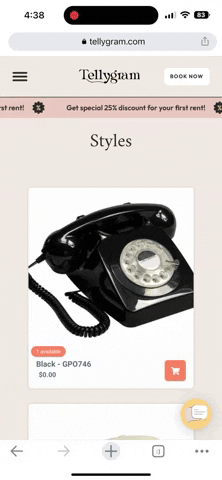 Any help would be appreciated. Thank you,
---
Here is my site Read-Only: https://preview.webflow.com/preview/tellygram-7b0e1c?utm_medium=preview_link&utm_source=designer&utm_content=tellygram-7b0e1c&preview=a32adfc2705831658d654ccac46ad5ba&pageId=637d21da41ab7e7af1f9207a&workflow=preview
PASSWORD: tellygramz